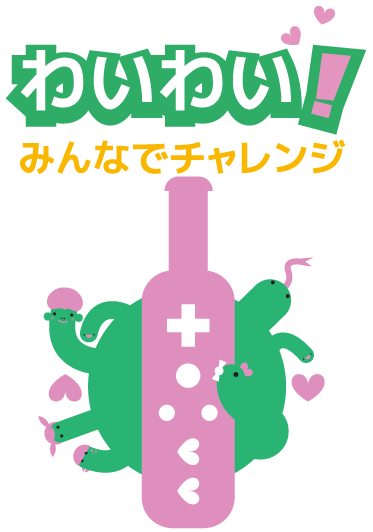 CERO A
ビデオ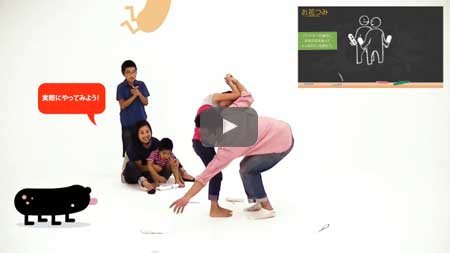 準備中
You can get the press kit here:

Sign up for the newsletter here:
Selected reviews of Spin the Bottle: Bumpie's Party
In many ways the best game on the Wii U so far, at least in terms of using the GamePad for something other consoles would find very hard to replicate. Davidjenkins2012 @ metro.co.uk
The first instruction tells you to do the unthinkable: Turn off your TV. What voodoo is this? @ killscreendaily.com
If Nintendo is looking to convince players of the uniqueness of Wii U's GamePad, it could do a lot worse than follow KnapNok Games' bold example. Edge Staff @ edge-online.com
Spin The Bottle aims to be a true party game and succeeds completely. Joe Skrebels @ officialnintendomagazine.co.uk
Spin The Bottle demonstrates a creative mastery of the Wii Remote not seen in years. Derrick Sanskrit @ gameological.com
KnapKnok Games display a level of creativity with the Wii U hardware that even Nintendo are perhaps yet to better. Alex Seedhouse @ nintendo-insider.com
Irgendwie vollkommen hässlich, aber auch gleichzeitig passend und stylisch! Pascal @ ntower.de
Overall Spin The Bottle: Bumpie's Party provides an experience like no other on Wii U @ nintendolife.com
Our family had a blast playing Spin the Bottle Bumpie's Party. The themes of working together, spending time as a family, communicating, and having fun go a long way with us. pbury@familyfriendlygaming.com @ familyfriendlygaming.com
The game takes advantage of the Wii U in creative ways Ben Hanson @ gameinformer.com
Get yourself some booze, some friends and the willingness to act crazy! Daan Koopman @ nintendoworldreport.com
Any game that encourages me to hug and dance with other people is ok in my book. Jesse Cortez @ gaygamer.net
You should definitely keep your eye on this gem (that received one of our five Drool Awards) when it comes out for the Wii U's eshop in July. Yamilia Avendano @ Twinfinite
These mini-games often involve pushing players' comfort zones, to hilarious and awkward results. Jake Weston @ Gamrreview
It incorporates a new element of social gaming that I have yet to see leveraged on any traditional console. Rob @ wiiudaily.com
Spin the Bottle for the Wii U Makes You Get Close. Sexy Close. Luke Plunkett @ kotaku.com
Danish developer KnapNok Games is transforming classic make out game Spin the Bottle into a Wii U party game. Michael McWhertor @ polygon.com
Like We Dare, only not rubbish. Jeffrey Matulef @ eurogamer.net
this opens the door to the sort of play that doesn't need a screen, but still benefits from accelerometers, gyroscopes, and a central scoring system. Ben Kuchera @ penny-arcade.com
The Wii U is getting weirdo indie projects right from the jump JC Fletcher @ joystiq.com
More good news [..] for indie-loving fans. Brandon Boyer @ venuspatrol.com
Spin the Bottle could be your new favorite Wii U drinking game Jamin Warren @ killscreendaily.com
Wii U gets a sexier form of J.S. Joust in Spin the Bottle John Polson @ indiegames.com
Awards & Recognition for Spin the Bottle: Bumpie's Party
San Francisco, USA – 2013
Los Angeles, USA – 2013
Los Angeles, USA – 2013
Awards
Our fantastic awards!
ニュース
わいわい!みんなでチャレンジ
ついに! 本日配信スタート!!
今すぐやってみよう!
わいわい!みんなでチャレンジは、2月12日(水)に
配信決定です!
Wii U eショップでDLできます!
とても面白い、未体験の17個のミニゲームが楽しめて、
たったの700円!
本日より、PVを公開!ビデオページをご覧ください。
さらに、任天堂のHPに情報が載っています。
下記のリンクでご確認ください!
Nintendo Wii U eShop
配信まで、あと少し!お楽しみに!
Spin the Bottle: Bumpie's Party released in Japan
わいわい!みんなでチャレンジを発表しまして、HPが公開しました!
概要
わいわい!みんなでチャレンジは、家族や友みんなで楽しめる
パーティーゲームです!相手と息を合わせないと成功できません!
お互いにコミュニケーションをとり、共同でポンプを押して
手押し車を動かしたり、のこぎりで木を切ったり、穴掘りドリルを
回転したりします。
思わず笑いのこぼれるゲームが満載です!
また、TVはなくても遊べます!
パートナーとの協力が必須!
Wii U GamePadで説明を読み、実際に2人で挑戦します。
Wiiリモコンを使い、相手との協調、信頼、柔軟な体、
手を取り合っての協力が必要です。ちょっと意地悪なミッションも
あり、さらに盛り上がること間違いありません。
思わず笑いのこぼれる楽しいゲームがいっぱい!
幅広いバリエーションでミニチャレンジが17種類!
どのチャレンジが次に課されるかはわかりませんが、
楽しめることは間違いなしです!